Bale Feeders
Our McIntosh Bale Feeder is designed to an uncompromising strength standard. It is not designed to be the lightest on the market, because with today's larger bales, faster tractors and less time for maintenance, the need for additional strength has never been more important.
You expect strength, quality and performance from your farm machinery and McIntosh Bale Feeders deliver all three.
Our McIntosh Double Bale Feeder has been designed to incorporate strength, ease of use and proven years of trouble free use. With a spear loading system and low centre of gravity, the McIntosh Double Bale Feeder leads the way in feeding out machines.
All details on the McIntosh Bale Feeders have been carefully thought out and developed to reduce breakdown and provide trouble free operation for years.



Our McIntosh Multi Bale Feeders with spear loading system have two box sections running through the cradle for greater strength and a lower centre of gravity. This means the tyres can be kept in closer towards the centre of the Bale Feeder. The wider cradle has a much smaller chance of running over the product even when there is a strong wind and in muddy conditions.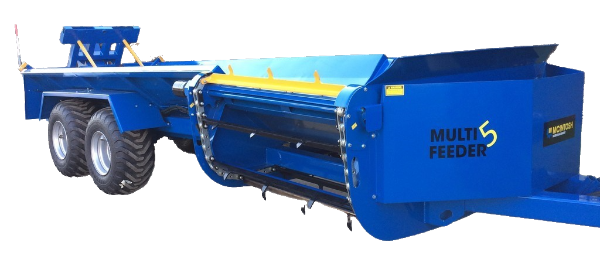 Multi Bale Feeder - 5